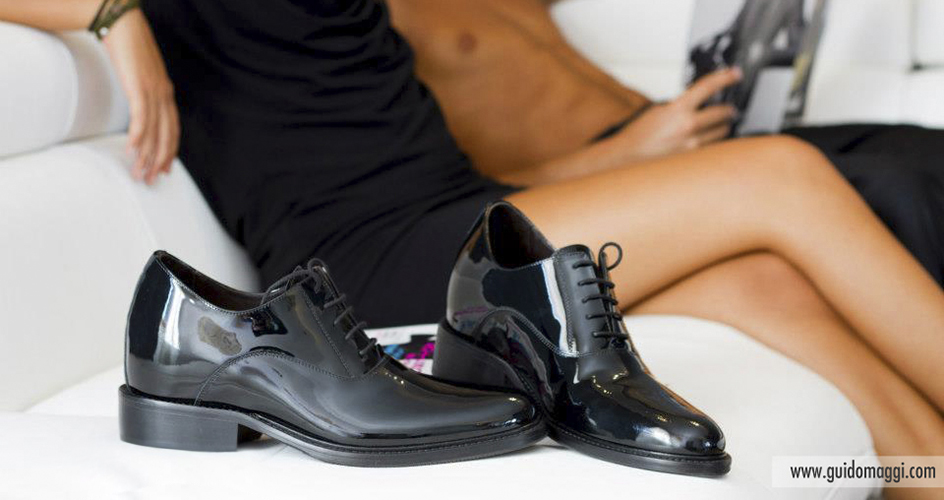 A day that practically every bride dreams of from the time she is a girl is her wedding day. For men, that day usually doesn't dominate their imagination until they become engaged. Once he is engaged, the question of how he will appear next to his bride becomes a priority.
Wedding shoes are a luxury item. However, for the man who wants to stand taller, they generally don't do the job of increasing his height, compared to his bride, who's wearing high heels. Regular height increasing shoes seldom have the fit and finish that's appropriate for formal wear. Fortunately, there's one source for luxury tall shoes that a bridegroom can wear with pride: GuidoMaggi.
Made from the finest calf black patent leather, GuidoMaggi bridegroom shoes are crafted by the most skilled Italian artisans with meticulous attention to detail. These shoes make you look taller with style and looks that are second to none.
These superb shoes are not just for the man who lacks stature. Many tall men marry tall women, who wear four inch high heels as a part of her wedding ensemble. GuidoMaggi wedding shoes elevate the bridegroom in a way that does not call attention to the fact that he's wearing "look taller shoes". That's because these are first quality Italian leather shoes, made with comfort, fit and surefooted performance in every pair of shoes.
You'll dance all night at your wedding party, secure in the knowledge that your bridegroom shoes won't let you down. Plus, when it comes time for you to "dress down" for your honeymoon, you'll find a complete line of GuidoMaggi casual elevator shoes to complement your casual look, too.